Rice Bran Oil Processing Plant Cost
At HUATAI Machinery, rice bran oil processing machine is cost effective with highly durable.
Whether you want to produce edible rice bran oil or manufacture non-edible rice bran oil, HUATAI Machinery will also offer the best turnkey project plan.
Our rice bran oil mill plant is featured of easy operation and wide raw material adaptation, which can process nearly all kinds of oilseeds and nuts. Rice Bran Oil Processing Plant Cost including rice bran pretreatment, extraction and refinery machine.
Establish a Small &Mid &Large Scale Rice Bran Oil Factory
The rice bran oil processing method involves two important step, which is Extraction and Refinery.
Rice Bran Oil Solvent Extraction Process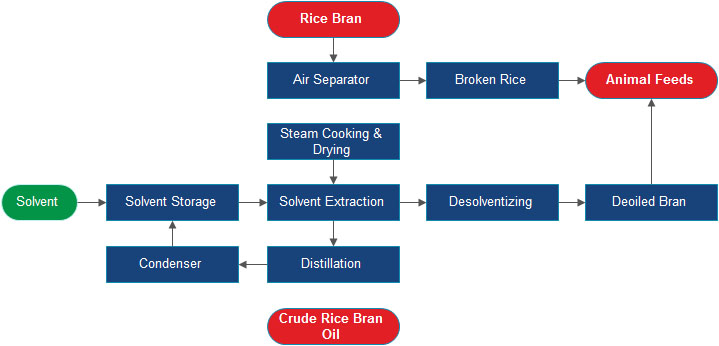 2. Main parts of rice bran oil extraction machine:
(1) Solvent pumps: continuously spray solvent to the rotary-type extractor.
(2) Roary extractor: Spray and soak the pre-pressed cake with solvent so that oil fats can be dissolved in solvent(form miscella). After processing, you can get wet meal and miscella (mixed oil).
(3) DTDC: usd to separate the solvent from the wet meal
(4)Miscella tank 1st: pump the miscella (oil with solvent) in to the miscella 1st , and then add 10% saline water to it. The phospholipid and impurities in the miscella will react with the saline wter, at last the reactant precipitate, reaching the goal of purifying
(5) Miscella tank 2nd: the purified miscella will be pumped into it.
(6)Miscella stripping: it will remove the remaining solvent in miscella. And the solvent will be discharged to condenser for recycling.
(7) Condensers: used to cooling the solvent gas separated from the wet meal and miscella for recycling.
Rice Bran Oil Refining Process

Refining section is to improve the quality of the oil. The refining process may cause a reduction in the nutritionally active component in the rice bran such as vitamin E and oryzanol.
The extracted bran rice is then purified. The purifying process is basically intended to relieve clay compound (dewaxing), phosphatides (degumming), fat acid (saponification), dye (bleaching)and scent (deodorization).
Rice Bran Oil refinery is growing from time-to-time. The technology used to extract and produce the best rice bran oil keeps getting more advanced.
Website: https://ricebranoilpress.com/
Email: [email protected]