Wonderful Rice Bran Oil Benefits
The various benefits can be found in more than forty thousand varieties of this cereal that are available throughout the world. The two main categories are whole grain rice and white rice. Whole grain rice is not processed very much, so it is high in nutritional value, whereas white rice is processed so that the bran or outer covering is removed, leaving it with less nutritional value. People choose different styles of rice for particular flavors, depending on their culinary needs, the availability, and the potential for healthy benefits as well!
It can also be defined by the length of each grain. Indian or Chinese cuisines specialize in long grained rice, whereas western countries prefer short or medium length grains.
The health benefits of rice bran oil include its ability to lower cholesterol, boost the immune system, help prevent cancer, improve skin health, help in weight loss, relieve menopausal symptoms, protect your heart, increase cognitive strength, and lower allergic reactions.
Rice bran oil is an increasingly popular vegetable oil that offers many advantages over standard vegetable oils that millions of people commonly cook with all over the world. Rice is one of the most widely available and popular foodstuffs on the planet, and rice bran oil is extracted from the germ and the husk of rice kernels. It has a very high smoke point, which is why it is commonly used in high-temperature cooking methods, such as stir frying and deep frying. In terms of similarity to other vegetable oils, it has a similar composition to peanut oil, but it has certain advantages over that oil as well.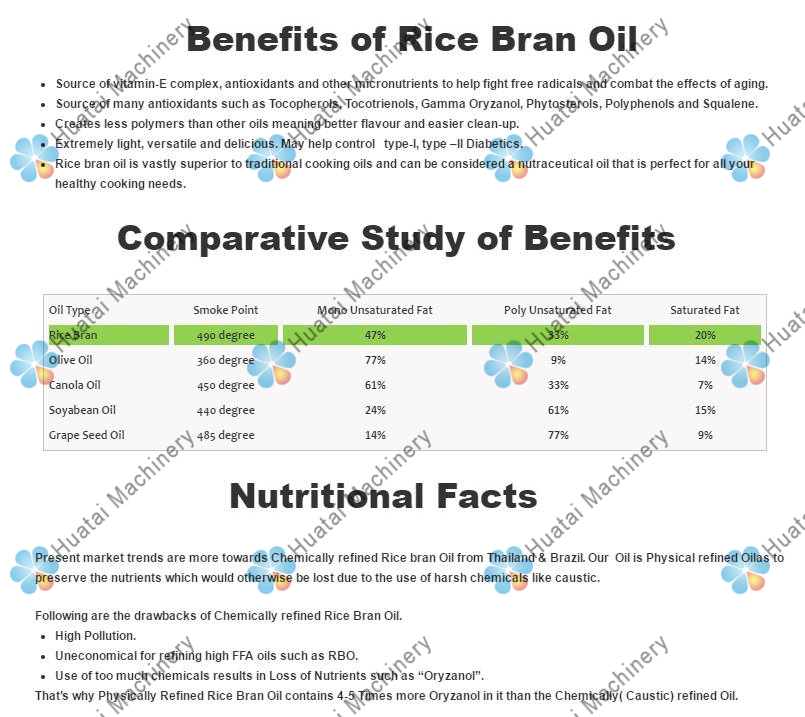 Rice bran oil is most commonly used in Asian cultures, including Japan and China, primarily because rice is already such a staple food in their cuisines. However, rice bran oil is becoming increasingly popular in other parts of the world because of its relatively low price point and the many health benefits that come from using it in food preparation. It is most widely praised for its content of vitamin E, ideal fatty acid balance, antioxidant capacity, and cholesterol-lowering abilities. Let's look a bit closer at some of the health benefits that you can get from rice bran oil.
The health benefits of rice include its ability to provide fast and instant energy, regulate and improve bowel movements, stabilize blood sugar levels, and slow down the aging process, while also providing an essential source of vitamin B1 to the human body. Other benefits include its ability to boost skin health, increase the metabolism, aid in digestion, reduce high blood pressure, help weight loss efforts, improve the immune system and provide protection against dysentery, cancer, and heart disease. Rice is a fundamental food in many cultural cuisines around the world, and it is an important cereal crop that feeds more than half of the world's population.
Website: https://ricebranoilpress.com/
Email: [email protected]