Rice Bran Oil Production Process
Completed rice bran oil processing plant includes rice bran oil pretreatment or extrusion, rice bran oil extraction and rice bran oil refinery.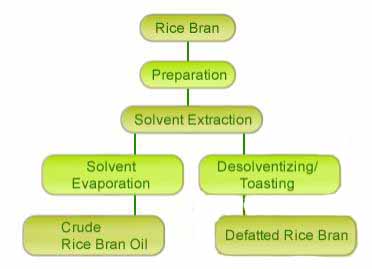 The flow chart is as following:
Raw material (Rice bran) → Cleaning →Conditioning → Puffing(Extrusion machine) → Solvent extraction plant → Refinery plant → Dewaxing plant → High quality refined rice bran oil
1. Cleaning in in process of making rice bran oil:
Same with other oil processing plant, rice bran needs cleaning section to remove mechanical imurities in rice bran to impove oil yeild rate.
2. Puffing in process of making rice bran oil:
Puffing destory oil seeds cell completely with high temperature, high pressure, etc. Puffing is the most important part of rice bran oil pretreatment.
3. Rice bran oil solvent extraction plant:
Rice bran solvent extraction plant is similar with other oil solvent extraction plant, including solvent exrraction, desolventizer toaster£¬oil stripping, and solvent recovery.
4. Rice bran oil refinery plant:
Same with other oil refinery plant, rice bran oil refinery plant includes degumming, deacidification, decolorization, and deodorization. What is different is that different capcity refinery plant needs different equipments.
5. Dewaxing plant:
Rice bran oil dewaxing plant reduce wax content in rice bran oil, which help increase edibility of rice bran oil.
Henan Huatai Cereals And Oils Machinery Co.,Ltd. a professional rice bran oil refining equipment manufacturer, you can contact us directly for more details, We will design rice bran oil processing plant as your requirement, choose for you best combination of rice bran oil production line.
Website: https://ricebranoilpress.com/
email: https://ricebranoilpress.com/