The Structure and Features of New-type Rotocel Rice Bran Oil Extractor
Since the advent of the American rotocel oil extraction equipment in 1940, it has been developed a variety of efficient rotocel oil extraction equipment through continuous improvement and development from the original low-efficiency pure filtration leaching, with false bottoms and 12 leaching lattices out of the structure. They have the same characteristics: compact structure, high material layer, reliable operation, low power consumption, high concentration of mixed oil, and suitable for a variety of oil materials other than powdery large billets.
Take the most widely used 16-cell fixed-grid rotocel oil extraction equipment as an example, and briefly introduce its structure and characteristics. The extraction grid rotates around a fixed central axis and is driven by a sprocket or wheel or bevel gear that wraps around the outer ring of rice bran oil extraction machine. Compared to the rotocel oil extraction with a false bottom that is being eliminated, the rice bran oil extractor is characterized by: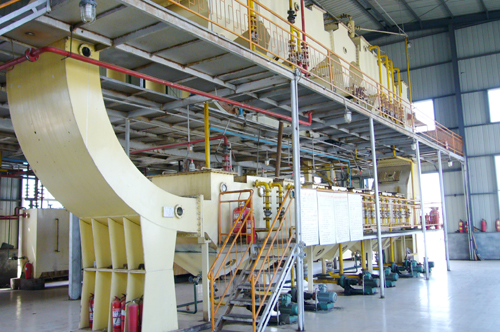 1. The fixed grid bottom is firm and wear-resistant, the structure is simple, the service life is long, and there is no false bottom which is caused by the screen being wear out easy to leakage;
2. When the billets rotates with the extraction grid, it is continuously scraped to the place where the fixed exit is discharged. There is no need to open the false bottom.
3. Fixed grid bottom manufacturing requirements are high and installation requirements are also higher. At the same time, it must be noted that the feed grid is easy to reverse flow and affects the residual oil, as well as the problem that the powdered material is easy to leakage.
The above content is from Henan Huatai Cereals and Oils Machinery Co., Ltd.: http://www.ricebranoilpress.com
For more information on rice bran oil extraction equipment, please send an email to: [email protected]