10-50T/D Rice Bran Oil Refinery Machine in Bangladesh
1. What kind of rice bran oil refinery machine we can supply
1) Batch rice bran oil refinery: 1-30 tons per 24 hours.
2) Semi-continuous refinery: 20-50 tons per 24 hours.
3) Continuous refinery: 30-600 tons per 24 hours.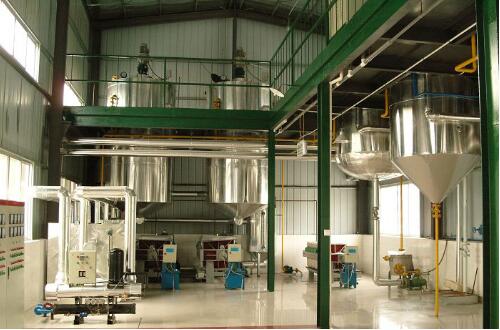 Rice Bran Oil Refinery Machine
2. The main process of refining rice bran oil equipment
Degumming alkali refining acid water
Crude oil is fed from the feed pump in the sump. The next step is to enter the crude oil heat exchanger, recover the metered heat and then heat to the desired temperature. After that, the oil is mixed with a phosphoric acid or phosphoric acid tank (M401) and then into the conditioning tank (R401) to convert the non-hydrated phospholipid oil to a hydrated phospholipid.
Neutralization of the base, the amount of base and the concentration of alkali solution depend on the quality of the crude oil. The neutralization oil is heated to temperature (90 °C) by means of a heater and is suitable for centrifugation to remove phospholipids, free fatty acids from crude oils and other impurities. Then, the crude goes to the washing process.
Bleach
Under normal circumstances, there are pigments in the crude oil, we need to use activated clay to absorb the pigment, 20 minutes later, we use the filter to filter the waste clay. If you want to get a light oil, you need to add more activated clay. This means that the customer can control the color of the oil according to his requirements. This process is carried out under vacuum.
Deodorant
Normally, there is some peculiar smell in crude oil, which can affect the quality of cooking oil. About our refining process, we usually use direct steam to remove odors under vacuum.
In general, there is about 0.5% water of alkali refined oil, in the deodorizer, the temperature is very high, it can also complete the dehydration section.
Filter
This process can remove a small amount of disturbing glue degumming degumming degumming oil after cooling (60 & deg; C), filtered again, to ensure the quality of refined oil. Then pump the last oil into the tank.
3. The main components of rice bran oil refining equipment functions
(1) Refining section: for acid phosphate degumming, alkali refining deacidification, washing.
(2) Bleaching part: for removing pigment, bleaching oil and fat dehydration.
(3) Deodorant: remove odor components in the oil.
(4) Dewaxing: Used to remove wax in oil, in order to get high quality oil.
(5) Thermal oil furnace: the production of heat required for the production of the device, the temperature reached above280 ¡æ.
(6) Steam generator: produce the required steam and distillation.
(7) Vacuum pump: the need for vacuum dehydration, bleaching, deodorization. Vacuum can reach more than 755mm mercury.
(8) By filter: filter the clay, filter out the oil.
(9) Air Compressor: Blow dry bleached clay and blow off residual oil in a pressure filter.
Website: https://ricebranoilpress.com/
email: https://ricebranoilpress.com/